Playa Del Carmen, Large Group, Destination Wedding
Wedding planning can be stressful and overwhelming, but if you're planning on having a destination wedding, especially with a large group, I would highly recommend using All Inclusive Weddings!
From beginning to end, they help with every step; i.e., finding the venue, creating a custom wedding website, and booking all your guests. Their office manager, Linze, was very responsive, helpful, and so sweet! Everything turned out smoothly and we couldn't be happier!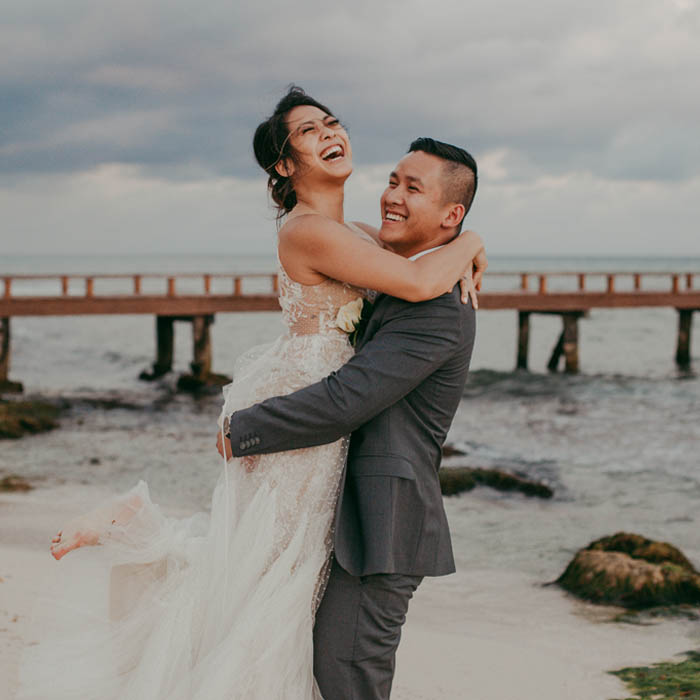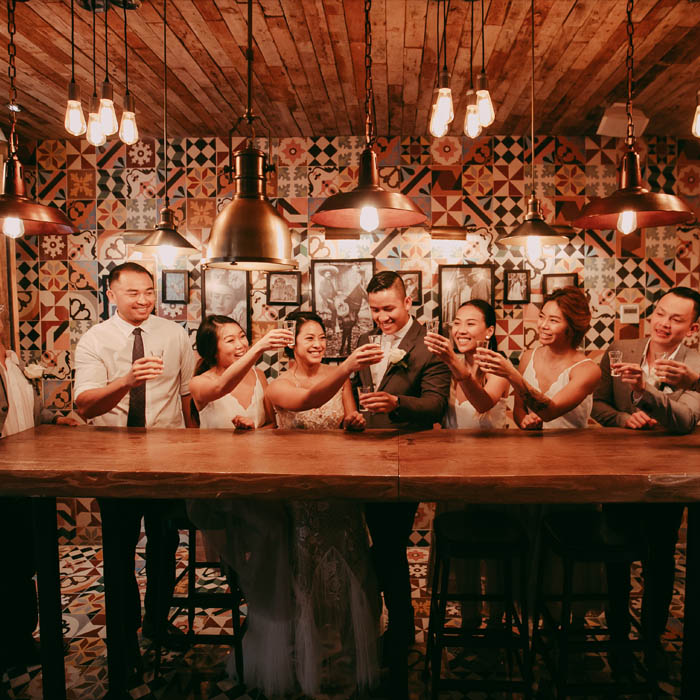 Dreams Riviera Cancun Resort & Spa, Destination Wedding
Stephanie was our incredible travel agent for our destination wedding! She helped with every aspect, quick communication and AMAZING coordination with over 50 different people over 8 states. Stephanie from the beginning, gave options and talked through so many questions I had. I could not have asked for a better right hand woman! 10 out of 10 for Steph, we could not appreciate & trust her more!
Incredible Agent For Our Destination Wedding! 10 Out Of 10 For Steph!
Such an amazing week of memories,laughter & love! Thankful for our people and truly blessed beyond words ♥️♥️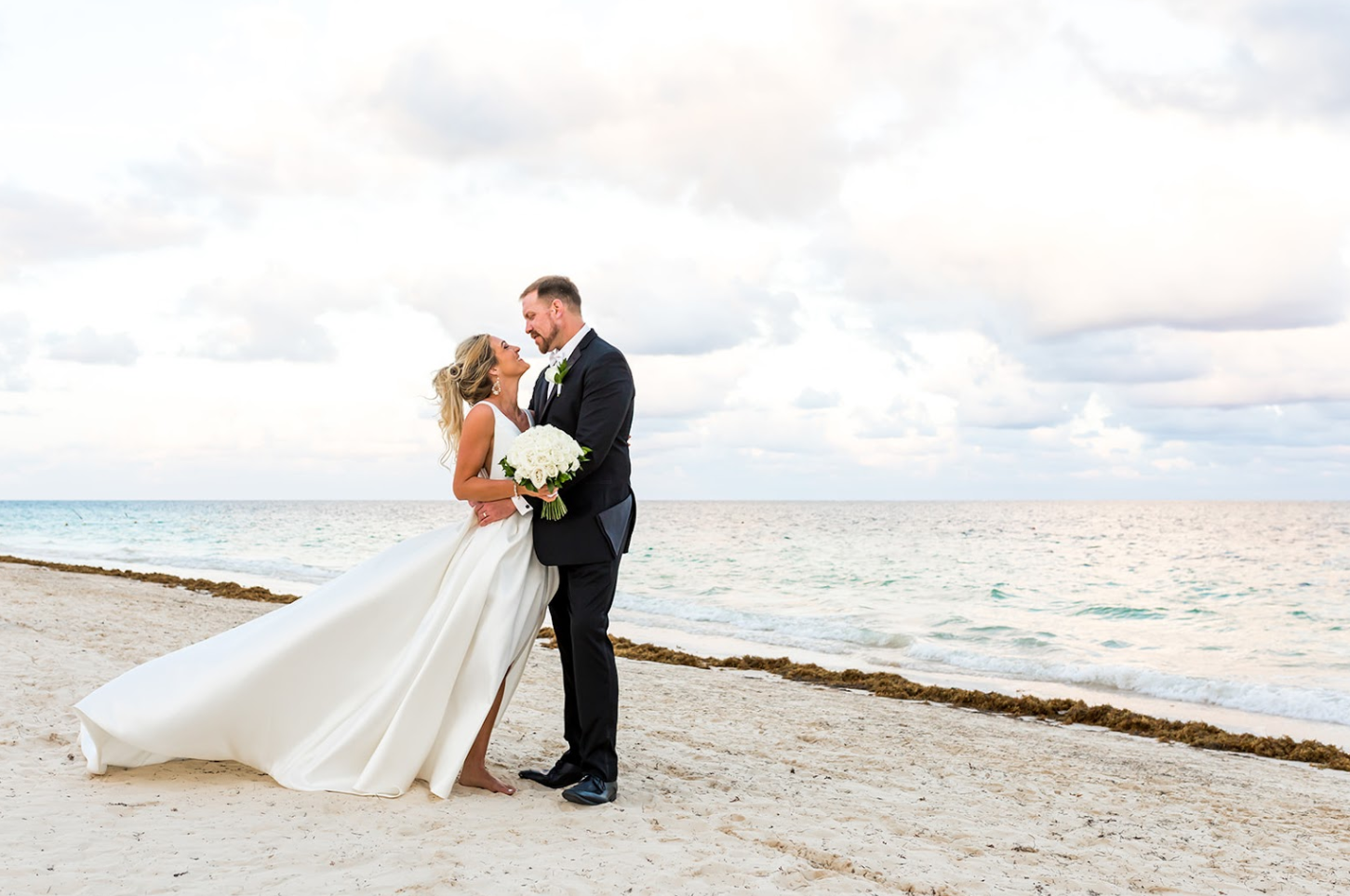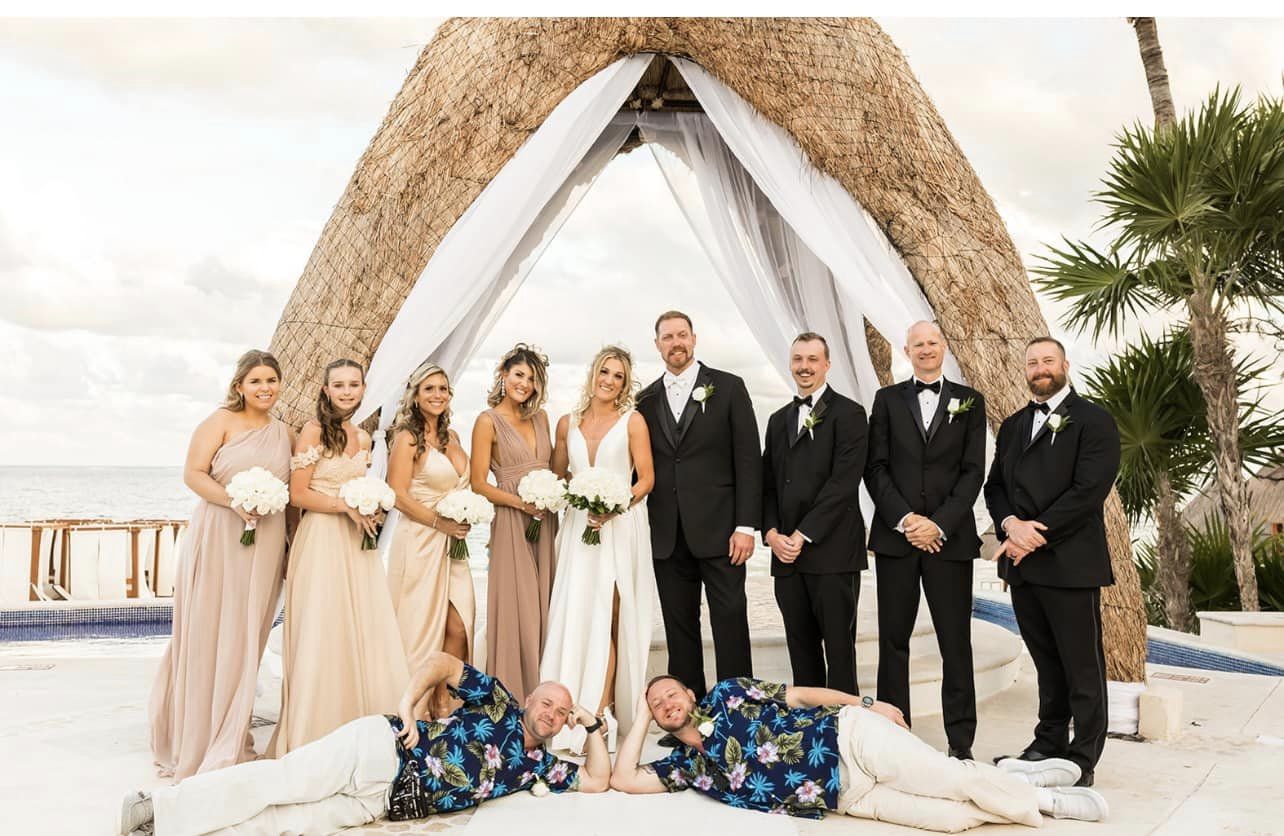 Royalton Blue Waters, Montego Bay, Jamaica, Destination Wedding
My husband and I worked with the company's owner, Lia Vincent, and office manager, Linze.
Lia & Linze were both very warm and friendly, and from day one, we could tell cared about us as a couple and our destination wedding success, rather than just seeing us as more clients. I get stressed out easily, so planning my own wedding alone was overwhelming, even though my wedding was 10 months out. I ended up working with Linze, and we pushed up the wedding date with a little less than three months to prepare. I was initially nervous about using a travel agent / wedding planner, but it turned out to be a huge blessing, because it took away a lot of the stress and worry I was experiencing. A bride has so many things to worry about, so having someone else bear the brunt of the work and worry about the nitty-gritty details was a HUGE relief for me.
Why spend hours analyzing vendors and reading reviews, when you can have a pro do it? If you want an intimate wedding, if you want to elope, or if you want a huge all-out, go-into-debt-for-years wedding, and if you're in the market for a wedding travel agent, Lia and Linze should be at the top of your list!
The day of the wedding, everything was so beautiful, and so much better than I could have done on my own. Lia's company finds the best local vendors, so you know you'll get great value in your package, and what's nice is her company offers different packages for different budgets. We worked with and met AMAZING vendors! The reception was so elegant that as soon as I entered the reception, I felt amazement, joy, and relief because being the worrywart and control freak that I sometimes can be, it was hard for me to trust someone to somehow make everything perfect. Lia was able to give us the dream wedding we couldn't have done ourselves. Our family and friends were also amazed, and repeatedly told us how great the wedding, reception, and food were at the resort.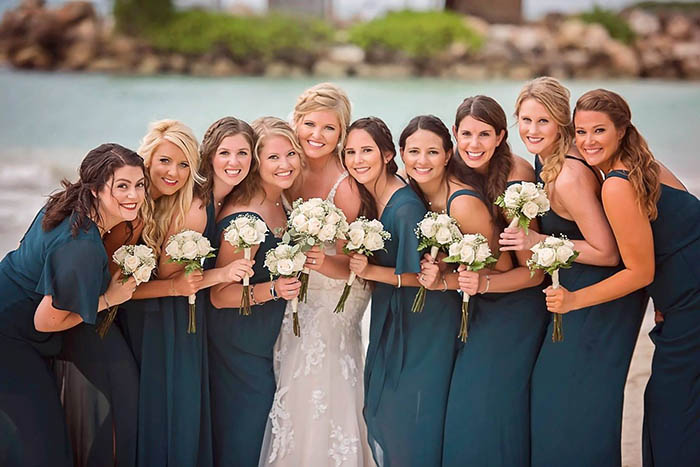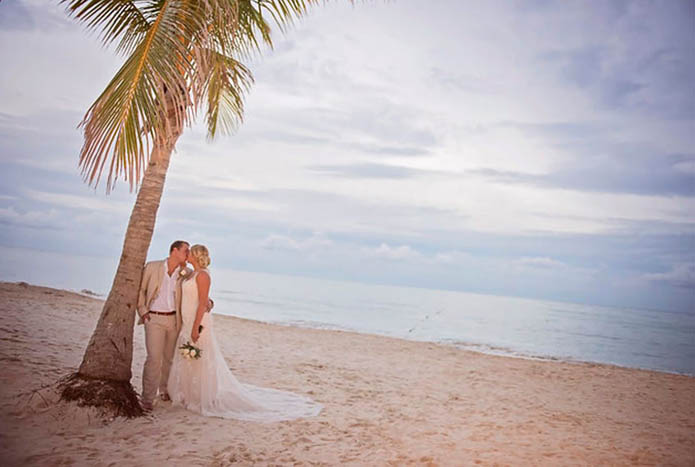 UNICO, Riviera Maya, Mexico Destination Wedding
Unico was wonderful and the perfect place for our wedding! It was quiet and the ceremony was better than expected. We had it on the gazebo and it was away from everything, which was great. The photography was beyond our expectations. We have not received our video yet, but assume it will be just as great. I also used the in house vendor for make up and hair, and was not disappointed. The wedding coordinator, Nazareth, was so sweet and on point. We used the local host quite a bit with WhatsApp, which was quite convenient. Food and drinks were amazing. We were disappointed that 2087 restaurant was down for half of our stay for repairs. We ate at Mi Carisa on our wedding night, which was the perfect choice. Service was also best there. We scheduled 2 tours through the hotel, a sunset cruise and Chichen Itza express. The boat tour was nice. Chichen itza tour was too fast and ok. We really appreciate your recommendations and help booking our wedding and stay. It was wonderful! Thank you again, Juliet and Jason

Hard Rock Punta Cana, Dominican Republic, Destination Wedding
We just got back from an AMAZING wedding weekend yesterday. I can't begin to thank you enough for your help and support during the entire process. Everyone had a great time. It truly was one of the best days of my life and I can't believe how stress-free it was once I got there. Thank you Thank you!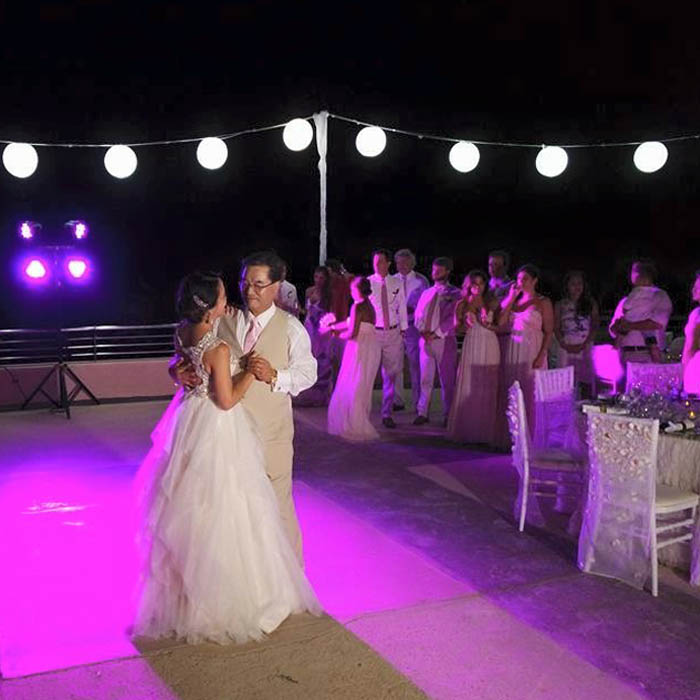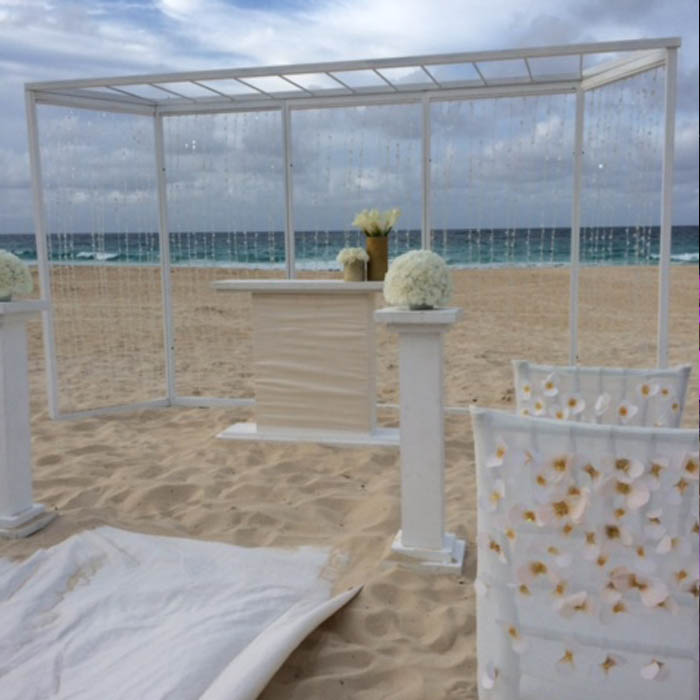 Sandals Grande, St. Lucia, Large Group, Destination Wedding
I wanted to share (with permission) these gorgeous pictures from a destination wedding 2 weekends ago we had the privilege of being a part of and booked by Lia. She chose this over the water wedding chapel in St. Lucia with friends and family there to help celebrate. I love her flower crown and her dress and how happy she is. Picture perfect. Congratulations Kate and Curtis! We are so happy for you!

Secrets Playa Mujeres, Mexico, Destination Wedding
I have never used a travel agent before Lia. I have always been the "I can do everything cheaper by myself on the internet" type person; most of the time, it works great. When my husband and I decided to have a destination wedding, we were not sure about anything - number of guests, length of stay, etc; we also have very demanding jobs, requiring constant travels up until the week before our wedding. So we thought that a travel agent may be a lifesaver; as it turned out, she was. Lia was endorsed as an expert in destination weddings on the American Express Travel website. Although she lived over a 1,000 miles away, I felt comfortable.

As I am not a "girly" person, wedding planning was not my thing; however, party planning and event coordination are. Lia and I treated this "event" like a business and I loved that about her; I needed someone to be truthful and provide honest advice. As it is with my job, I like corresponding via emails because I can have all the information on hand and in writing at all time; Lia always accommodated that, and always very promptly. I'm not talking about several emails over a few months; I'm talking about over the course of over a year. Lia was there to provide support when I had a hard time reach the wedding coordinator; she was there when I freaked out at the resort regarding my brother's return transportation (as it turned out, my brother spoke with the wrong transportation company); she was organized to be able to provide me with spreadsheet of all guest arrival information; she always submitted my requests to Classic Vacation and the resort promptly. James and I cannot thank Lia enough to make everything go smoothly for the biggest event of our lives. All 48 of us had such a great time that we absolutely see another group vacation in the future.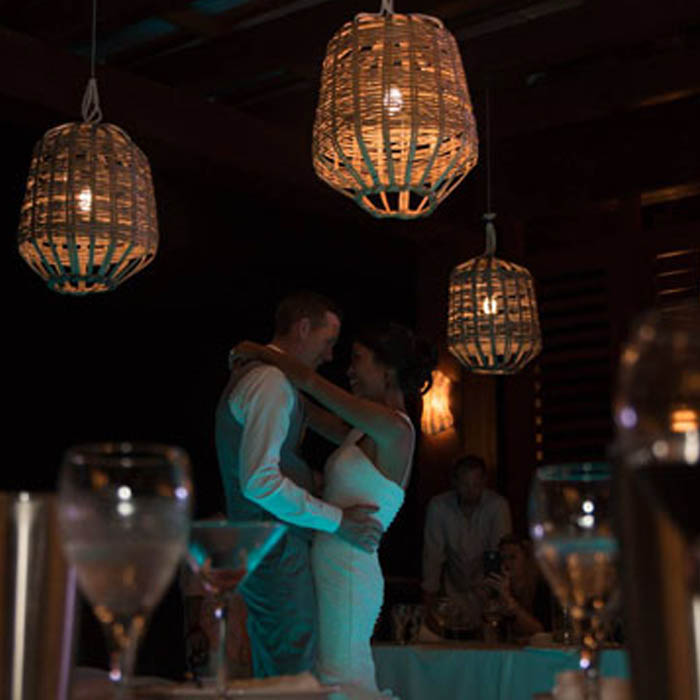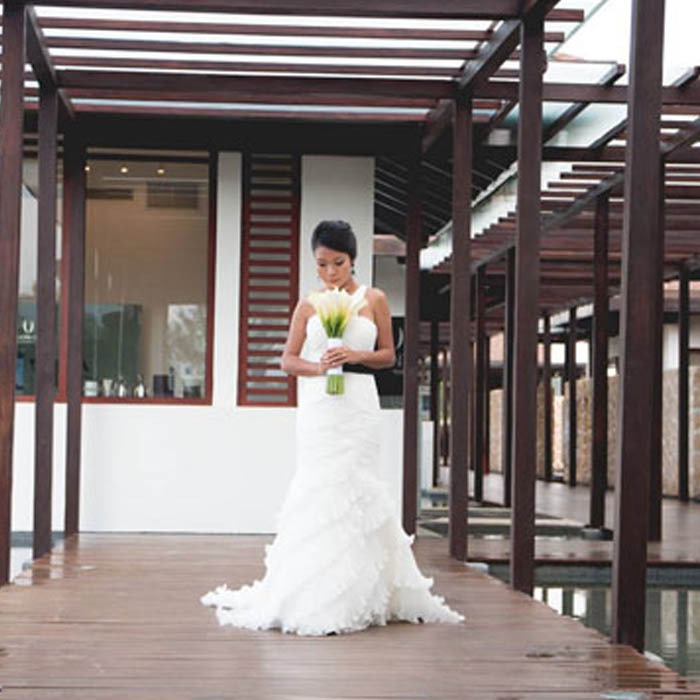 UNICO 2087, Riviera Maya, Mexico, Destination Wedding
Read the full details about this destination wedding in our blog post, Mark and Casey Simpsen's Destination Wedding at UNICO 2087. This couple was also featured in the UNICO 2087 Resort blog post, UNICO Destination Wedding, Casey Shelley & Mark Simpsen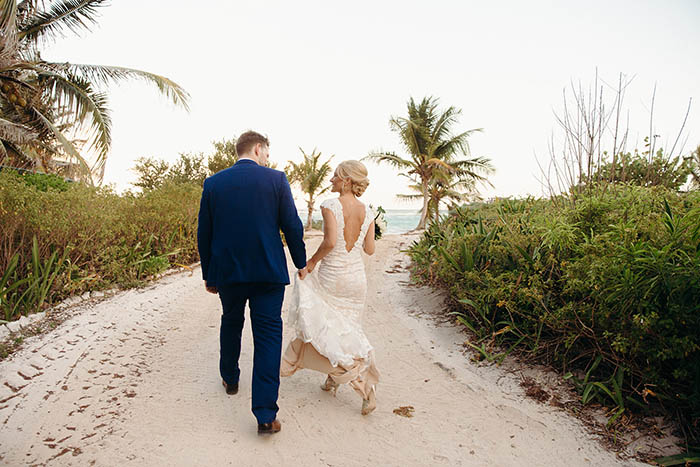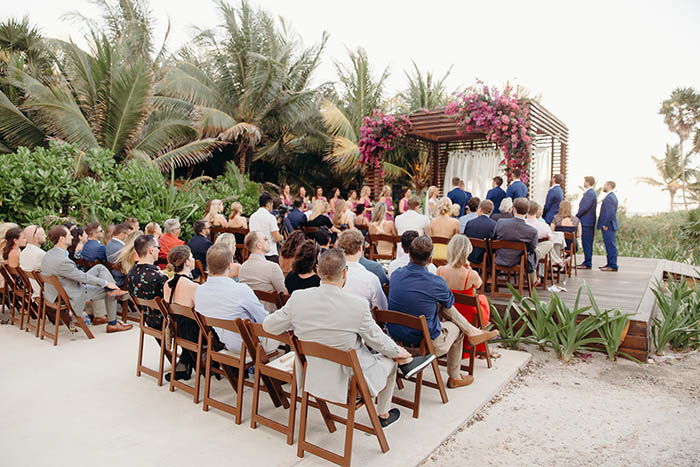 Beaches Resort, Ocho Rios, Jamaica, Destination Wedding
Lia was very helpful for us in planning our destination wedding to Ocho Rios, Jamaica. We had gone through a few other travel planners first who didn't seem nearly as interested in our needs. We really appreciated the way Lia helped us navigate through some of the complexities, including the local laws of Jamaica and the planning with the resort itself. Even once we got to the resort and ran into a few snags, Lia was able to quickly get those resolved very quickly. We would highly recommend her for anyone planning a destination wedding or any other vacation. Thanks, Lia, for making our destination wedding the most special day of our lives.

Beach Palace Cancun, Mexico, Destination Wedding
Lia being referred to me saved me so much wedding planning mental anguish! I had tried with a few other travel agents before I had two different people give me Lia's name, and with each of the previous TAs they had to look into things and call me back (I'm still waiting for those calls). Getting in touch with Lia was a whole new experience, she answered all my initial questions in that first phone call, had so many recommendations, and it was obvious she knew exactly what she was doing. By the time we hung up the first phone call, I had decided on a destination and venue (per Lia's suggestion). She was a God send! A year later, we are still having people talk about what a great trip it was and people are always amazed by what a great turn out we had. We ended up with about 60 people, all booking through Lia and everyone had a flawless experience. One even asked for her name when planning her destination wedding a few months later and was just as pleased! Lia told me a lot through the planning process that I was such a laid-back bride, but it really was because she left me nothing to worry about. She answered any question I had, was always quick to respond to calls and emails, and helped me plan the most perfect wedding ever. I wish I could re-live it all again!!

Cozumel Palace, Mexico, Destination Wedding
My husband Cameron and I got married at the Cozumel Palace in June of 2014 and could not have been more happy with our experience. A destination wedding was definitely the way to go for us and Lia was a great asset in our planning.

Throughout the process we felt completely at ease as she handled some of the most important details of planning for this special time. From her first recommendations of resorts and destinations to her help arranging travel for our closest family and friends we always felt grateful having Lia on our side. We highly recommend Lia Vincent and Palace Resorts for your destination wedding!

Le Blanc Spa Resort, Destination Wedding
I am truly so grateful for you and all of your help! Le Blanc was amazing! NOTHING could have been better, except maybe the weather, but the staff, food, and service were above and beyond! We will definitely go back there!! Love, Love, Love you for all of your help - Can NOT thank you enough!!

Beach Palace, Cancun, Mexico, Destination Wedding
Our Dream Wedding!

Lia was a phenomenal help from the beginning. She was referred to me by a friend, and I was incredibly thankful that we used her. When we started planning, we became overwhelmed with all of the information that is available.

We met with her for about 45 minutes one afternoon, took her pictures of spaces we had seen online and liked, and gave her a list of our "must-haves", a list of things that would be nice but didn't matter too much, and a list of things we absolutely did NOT want. She kind of thought about things for a minute, and then listed 3 resorts that fit every single one of our needs. She then ran sample pricing from EVERY location our guests would be traveling from so we could figure out what best fit our and our guests' travel budgets. After about a million more questions from me, we finally settled on her initial recommendation, the Beach Palace in Cancun. As we went through the process, any time I had a question, problem, or was just worried about something not being right, she was my go-to person. I'm not kidding, she would answer me in like, less than an hour 99% of the time. She even took my file home one weekend to give me more time to figure something out before she ran credit cards and got it booked. She was a Godsend!

Riu Palace, Riviera Maya, Mexico, Destination Wedding
My husband Cameron and I got married at the Cozumel Palace in June of 2014 and could not have been more happy with our experience. A destination wedding was definitely the way to go for us and Lia was a great asset in our planning.

Lia with Lia helped us plan our destination wedding in Riviera Maya, Mexico. We had a total of 11 people and she helped each of them set up their arrangements. From the beginning she was so helpful and always quick to respond. She made the entire process a breeze. She communicated with the wedding coordinator at the Riu Palace and made sure everything was just like we wanted. We did not have any issues at all, thanks to Lia and all of her thorough planning. Each of our guests bragged on her and said how easy it was to work with her. I would recommend Lia for all of your planning needs whether it be just a short vacation or a destination wedding. She knows what she is doing and will make sure all of your questions are answered and that you have the best vacation.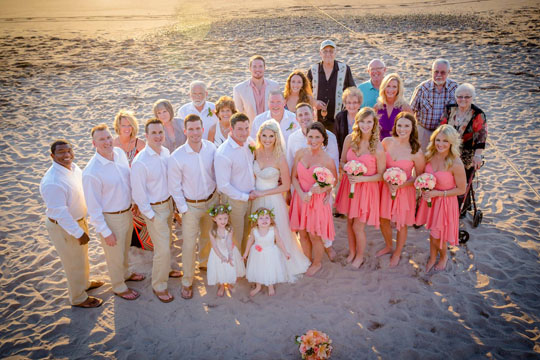 Puerto Vallarta, Mexico, Destination Wedding
My husband and I got married in Puerto Vallarta, Mexico right off the beach. It was pure bliss, and everything I could have ever dreamed of! I may be biased, but destination weddings are certainly the way to go and thanks to our wonderful Travel Agent Lia Vincent at Vincent Vacations, we were able to find the perfect place! I had the opportunity to be able to edit the straight out of camera photos from my wedding! Here is a glimpse of our wedding day in paradise!

Iberostar, Grand Punta Cana, Destination Wedding
We had the most amazing time at our wedding. Our guests are still talking about what an amazing trip it was! Thank you for your help with organizing this unforgettable time for us, we cannot wait to put our pictures in our new frame!

Dreams, Puerto Aventuras Resort, Destination Wedding
Lia, thank you very much for all of your help with our PERFECT wedding vacation!

Excellence, Punta Cana, Dominican Republic, Destination Wedding
"It was beautiful! Everybody had a fantastic time!"

The staff was wonderful, the rooms were gorgeous, and the food was AMAZING! Our wedding could not have been more perfect and if you have any brides that want a beautiful wedding on a budget, The Excellence Punta Cana would be my number one recommendation. Emy and Livia were fantastic and everything was just PERFECT! Chris couldn't even believe how wonderful it was.

Thank you again for all of your help!!!

Dreams, Puerto Vallarta, Mexico, Destination Wedding
Our Dream Wedding!

As soon as Jimmy asked me to marry him, I knew we would want a destination wedding. We love to travel, and we love the beach, so there was no more perfect place to start our lives together than a beach in Mexico!

I am not the wedding planning type, and I knew that with a destination wedding, we could get someone else to plan the details for us. Luckily for me, my friend Lia at Vincent Vacations specializes in Destination Weddings. Lia had taken care of trips for us in the past, and I knew she was the perfect person to help me plan this trip. I was right! She helped me look through destinations, and we found the perfect spot: Dreams in Puerto Vallarta! The package came with a wedding planner, who took care of the details for me. 21 of our friends and family came with us, and everyone loved the resort. Our party ranged in age from 7 to 82, and everyone agreed it was an amazing trip. There were activities for the kids, and plenty of excursions for everyone to choose from. The staff was wonderful, and pampered us from the time we arrived. One of my bridesmaids had a broken foot and was on crutches, and was in a wheelchair some. The hotel staff assisted her anytime she needed it, including carrying her and her wheelchair up and down large flights of stairs. They were amazing! All the rooms are ocean front, with beautiful views. Jimmy and I stayed in the "Preferred" tower, and our room came with a great balcony with a hot tub! Most of our guests stayed in the other tower, but the resort is small enough, this was not a problem at all. They all loved their rooms as well. The wedding planner met with me in advance to work out the last minute details and timing. When our wedding day came, everything went perfectly. We got married on the beach right in front of the ocean. We had a sound system and a dj who played all the songs that we picked out in advance. My Dad is a minister, and he performed the service for us. We had 21 in our wedding party, but it felt like a much bigger wedding because lots of people watched the wedding. You could see people everywhere on their balconies watching, which made us feel like rock stars. We had a Mexican band that played a few songs after the wedding. The wedding came with a photographer and videographer who did amazing job! We took pictures right after the wedding, then we had dinner which also came with the wedding. We had steak and chicken which tasted great. Of course, I also asked them for chips and guacamole. (I love the guacamole in Mexico.) They were happy to oblige. They provided the wedding cake after which was amazing. After the wedding, my husband and I stayed for another 4 days, and it was paradise. I could not have asked for a more beautiful place to get married, or a less stressful way to do it. Thanks Lia and Vincent Vacations for making our special day an amazingly unforgettable experience!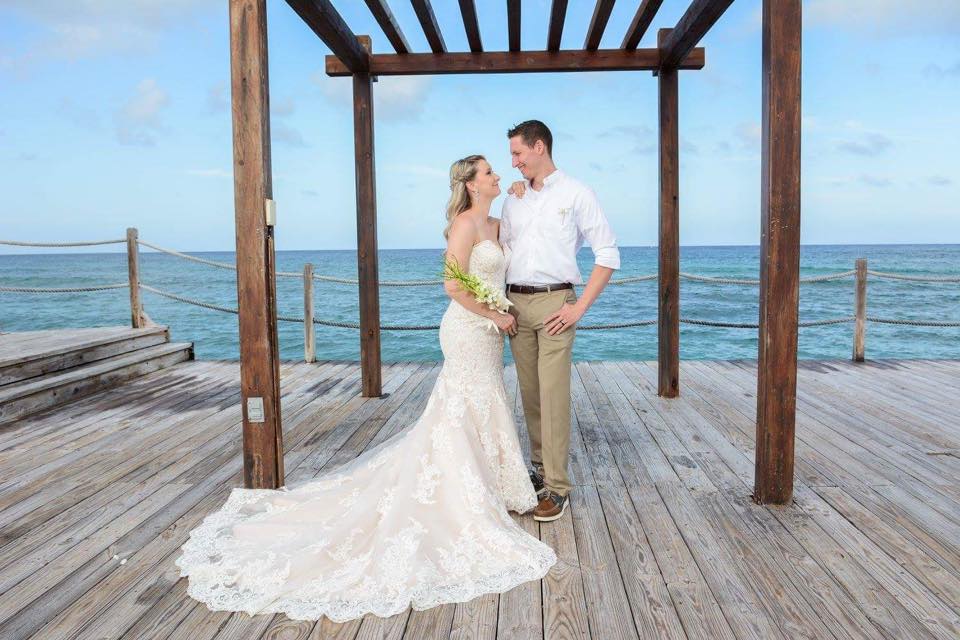 Jamaica, Destination Wedding
Love the pictures one of our brides just shared from her elopement in Jamaica! Thank you for sharing with us! Did you know we book Destination weddings of all sizes? If it's just the 2 of you or a group of 250, give us a call!

Grand Fiesta Americana, Los Cabos, Mexico, Destination Wedding
This was the best and easiest decision we made about our entire wedding! Lia at All Inclusive Weddings is the absolute best, extremely intelligent, hard working, and so caring. She truly makes you feel like you are her only client throughout the entire process. We had about 120 people coming to our Cabo wedding and even had to switch resorts, visitors coming from all different states and even Europe. She was calm, and kept the bride and groom calm! Every detail was taken care of and it was made to be the most perfect wedding!
Finest, Playa Mujeres, Mexico, Destination Wedding
I just wanted to thank you for all your hard work to arrange the hotel and transfers for Ashley and Robbie's wedding. It was perfect and everything that she had ever dreamed of! The resort was amazing! We had great food at all the restaurants. The staff went over the top to accommodate any needs that you could have had! Everyone felt safe and the beaches are beautiful. Since it's more private you don't get the crazy vendors walking the beach trying to sell you stuff. Our family loved it so much and we defiantly will be planning another vacation. You will be the first I call if we need help to organize something! Thank you again for everything
We have been in business since 2013, and booking destination weddings since 2002!
Contact us today to learn more about All Inclusive Weddings!