It's a familar story. A couple gets engaged and becomes really excited about a destination wedding, until they start thinking about questions. Questions about location, flights, rooms, transfers.
Planning a destination wedding by yourself can be formidable and the couple often becomes overwhelmed.
Does this sound like you? If so, the most important question you should be asking as a newly engaged couple is, "Should I hire a travel advisor to help me with this?" The answer is unequivocally, yes!

How does a travel agency, like All Inclusive Weddings, help with a destination wedding?

As a travel agency that specializes in destination weddings, we will help you determine the best resort for your wedding based on first-hand experience.
We know which resorts offer perks and which ones have the best prices. We have exemplary relationships with wedding planners and staff at resorts, so we can get information more quickly than you can on your own.
Best of all, we will handle all of you and your guests' travel arrangements. If you were doing this on your own, can you imagine trying to book Aunt Becky's transfers and room at the same time you are sending out invitations and scheduling bridal fittings?

Once your party has arrived at the destination, we will still be providing support. When cousin Eddy doesn't like his room, he can call us to have it all worked out, instead of asking you to fix it. Having a travel advisor in your back pocket will give you an added layer of insulation between all the things that could go wrong with travel, and the real reason why you are there - your wedding.

If you choose an international location, this may be the first time some of your guests have ever been out of the country. They are sure to have plenty of questions about passports, traveling during the time of Covid, and what happens if they need to cancel their trip? Instead of calling you to have their questions answered, we will provide expert answers to insure they are ready to travel. We will also be able to answer simpler questions about the dress code for the resort, if the menu has gluten-free options, and so much more!
In many cases, we can also provide on-site support. In this case, your travel advisor would travel with you, and be available to assist the group for the entire time you are at the destination!
We help you select the perfect resort for your destination wedding - helping you factor in your group size, budget, travel distance and so many other factors!
We have certified destination weddings travel agents ready to help you with your big day! We will help you find the perfect destination for your dream beach wedding, or any setting you prefer! With our experience, we have the top destination wedding packages available for your unique needs!
Free Planning
We pair you with an expert Certified Destination Wedding Specialist, and our service is 100% complimentary.
Exclusive Offers

We offer exclusive promotions and savings you can't find anywhere else in the world.
Peace of mind

We've received numerous industry awards and high customer service rankings from our happy couples.
Wedding Request Form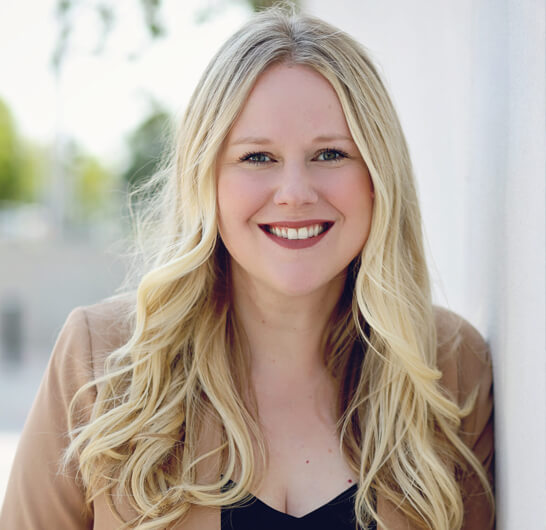 Lia Vincent, CEO & Founder (and former destination wedding bride!)
As a destination weddings specialized travel agency, All Inclusive Weddings provides services to plan, coordinate, and arrange travel to a destination wedding away from home. We specialize in booking weddings at all-inclusive resorts and locations. What's more, our wedding travel specialists are familiar with countries' marriage requirements, on-site resort staff, including wedding coordinators, vendors and so much more.
All Inclusive Weddings also has a network of on-site wedding coordinators it refers customers to, provides tools ranging from a free wedding web site to save-the-date e-mails, and offers payment plans that help make travel expenses more manageable.
To get the most out of a consultation, be prepared to share this information with any destination weddings travel agency that you visit:

The dream: Do you have a vision of what your wedding looks like? Describe the setting in as much detail as you can conjure so that the agent can understand your expectations.

Date: When do you want to hold the wedding? And how many days do you expect the entire event to last?

Place: Where you want to go? Do you have a specific destination in mind? Do you know what hotel or facility you want, or do you need recommendations?

Budget: How much money can you afford to spend to travel? Who is paying? Are you picking up any travel expenses other than your own?

Guest list: How many people are traveling, and do you want to help set up their itineraries?

Extras: Are there side trips or excursions you want to include? Is additional transportation, such as airport transfers and rental cars, required?

Honeymoon: Do you plan to celebrate your marriage in the same place and immediately after the wedding, or do you want to visit another destination?
When you begin dealing with a travel agent, they are likely to have a number of questions as well, all designed to help you narrow down your choices. When you settle on the best ideas, ask for a few different options, so you can compare prices and other variables such as location and amenities.
Because travel agents work on commission, you may find one encouraging you to choose a specific hotel or cruise line that rewards her more than others. If that offer isn't what you want, say so - and walk out if you feel pressured!

On the other hand, we want you to feel comfortable with choosing All Inclusive Weddings for all your destination wedding and romance travel needs!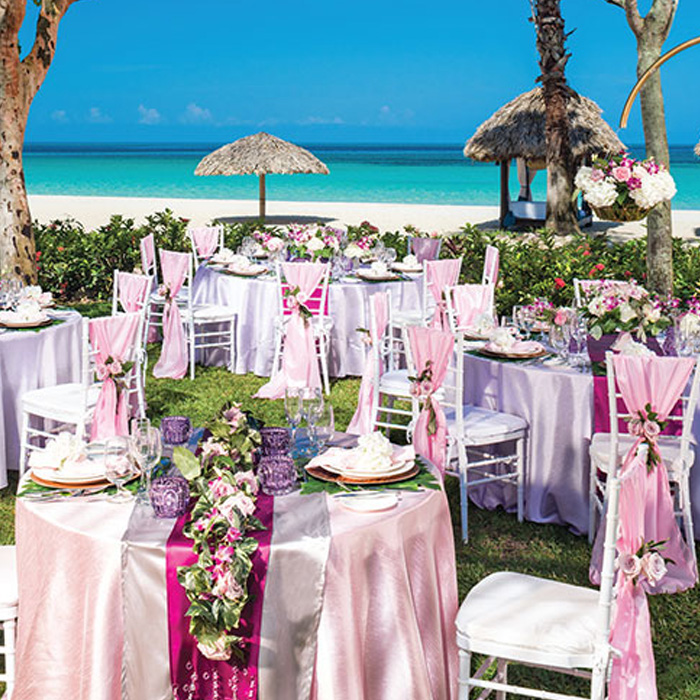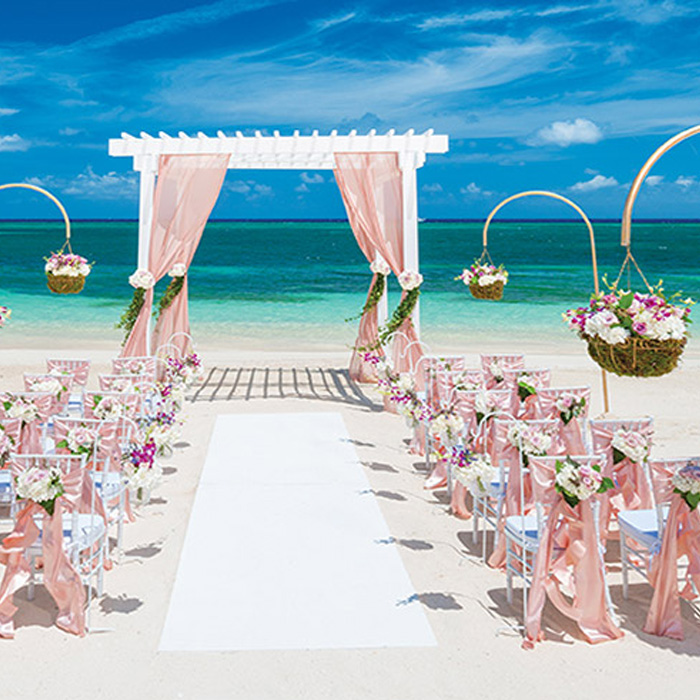 - An initial consultation/strategy session
- Set up wedding date and time
- Arrange a pre-planning trip if desired
- Negotiate the best possible group contract
- Destination, Venue, Hotel & Honeymoon Research
- Travel Bookings for all your guests
- Setting up transportation to and from your resort/airport for all guests
- Payment scheduling and reminders for you and your guests
- Accept payment plans from you and your guests when needed
- Documents and tips/reminders sent out to you and all your guests
- Status calls/consultations
- 24-hour customer service for all guests during travel
- Wedding Website for guests to get details and RSVP
- Destination Management Services in location for all guests (should any problems arise)
- Wedding Timeline including to-do lists to keep bride and groom on track

Destination Wedding Travel Reviews
---

50+ Group Destination Wedding!
- 10/19/2022
Review for travel agent:
Linze Chapman
Lia Vincent and team booked and coordinated booking and travel for 53 guests and my husband and I for our destination wedding November in Montego Bay Jamaica! They were amazing to work with and helped us pick the best all-inclusive resort that was perfect for our group! I don't know what we would do without them!
-Leah Flynn-Smalley
---

Best Wedding and Honeymoon Travel Agent
- 10/19/2022
Review for travel agent:
Linze Chapman
Steph Tindall has been awesome. We are going through a lot with our pending wedding/honeymoon and the Covid pandemic. We've already had our inital flight cancelled and had to postpone the dates for our stay and Sandals. She has taken care of everything and been with us every step of the way. I'm so glad we have her as our agent right now. I'd highly recommend usind her for any of your travel needs.
-Michael Parker
---
10th wedding anniversary trip
- 3/18/2022
Review for travel agent:
Haley Schrock
Where do I start?! Haley was amazing from the beginning to the end of planning my 10th wedding anniversary trip to Las Vegas, NV. I was working a 12-hour shift the day I started planning my trip, but everything worked out fantastic she's great at what she does! Haley sent me several hotel options along with pictures and total prices that included flight and resort fees and taxes. A week before our trip Haley mailed a printout to show the front desk at the hotel our resort fees and taxes so there were no hidden fees. We had the time of our lives and I am so thankful for people like Haley who take so much pride in the work they do! Thank you, girlfriend, you are my forever travel agent even though I live in another state
-Caprice Diggs
---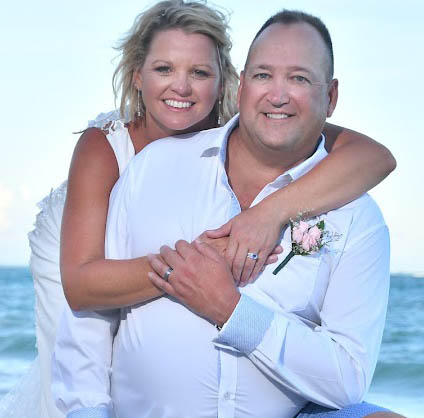 Let me throw out this disclaimer first. You will love her.
- 2/4/2022
Review for travel agent:
Stacie Wolfe
Let me throw out this disclaimer first. You will love her. If you don't have room in your life for a service provider who is attentive, thorough, responsive, kind, and genuine, keep scrolling. Stacie Wolfe was introduced to me through a mutual friend, and I enlisted her services to coordinate travel for more than 50 to the Dominican Republic for our wedding in November 2021. She did this with ease. 50 people, from more than 10 airports (with lots of personalities and accents). All had the most amazing reviews of working with her, especially after receiving a highly detailed folder of EVERYTHING they would need to have a stress free trip. One couple even called at 4am with "travel issues", she answered on the first ring and got them rebooked immediately. Since my wedding 4 months ago, I have used her to book at least 5 additional trips for us. If you want the best, she's it. If you don't, look elsewhere! Thank you Stacie Wolfe for all you do! The world needs more of you!
-Natalie Bannister
---
Destination Wedding 2021
- 7/14/2021
Review for travel agent:
Alena Warfield
It has been a pleasure working with you! You were extremely helpful and knowledgeable. We will definitely be using you for any future vacations! Thanks again for all you have done.
-Catherine
---
Wedding Request Form