Playa Del Carmen, Large Group, Destination Wedding
Wedding planning can be stressful and overwhelming but if you're planning on having a destination wedding, especially with a large group, I would highly recommend using Lia! From beginning to end they help with every step; i.e., finding the venue, creating a custom wedding website, and booking all your guests. Our travel agent, Linze, was very responsive, helpful, and so sweet! Everything turned out smoothly and we couldn't be happier!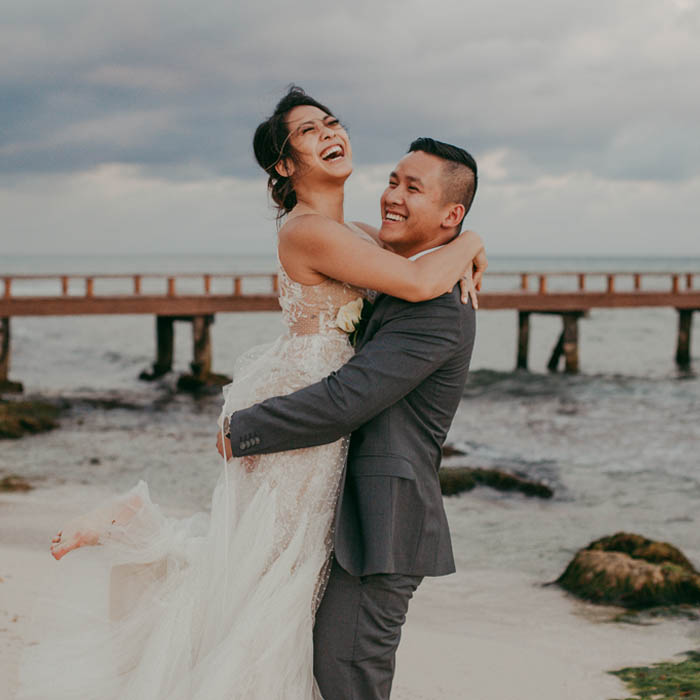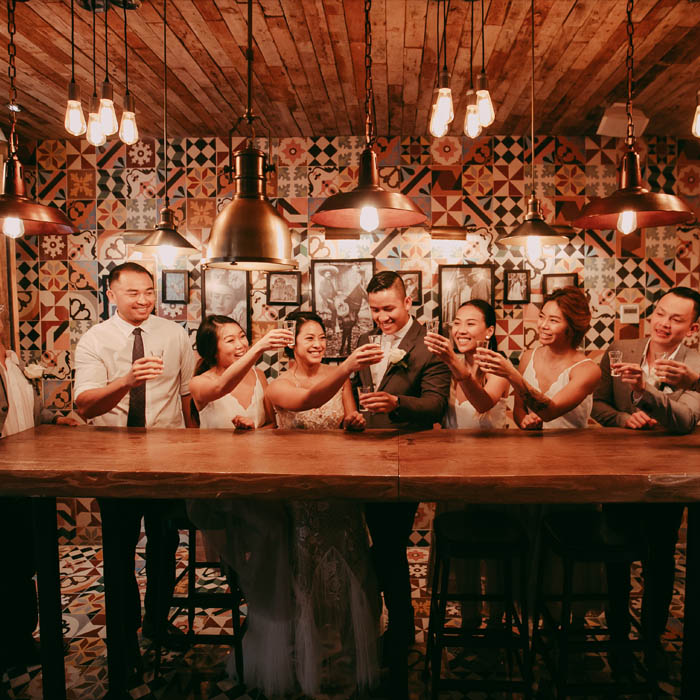 Hard Rock Punta Cana, Dominican Republic, Destination Wedding
We just got back from an AMAZING wedding weekend yesterday. I can't begin to thank you enough for your help and support during the entire process. Everyone had a great time. It truly was one of the best days of my life and I can't believe how stress-free it was once I got there. Thank you Thank you!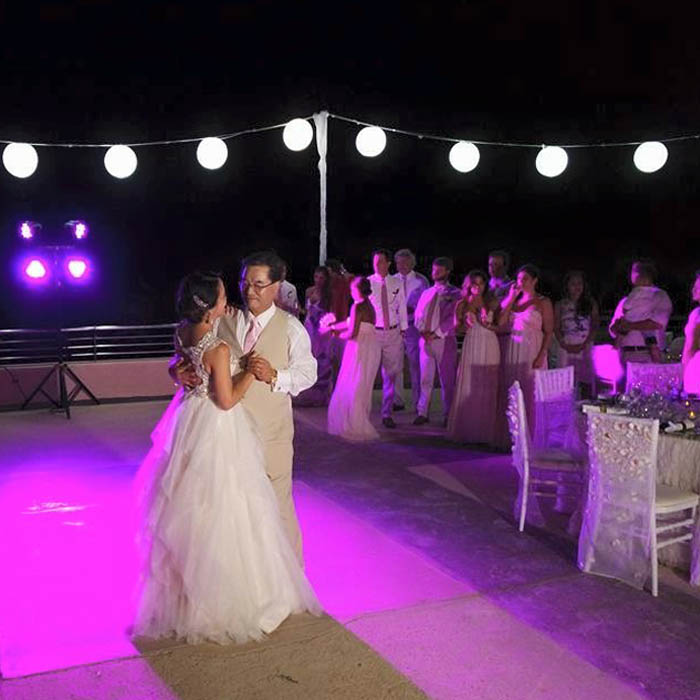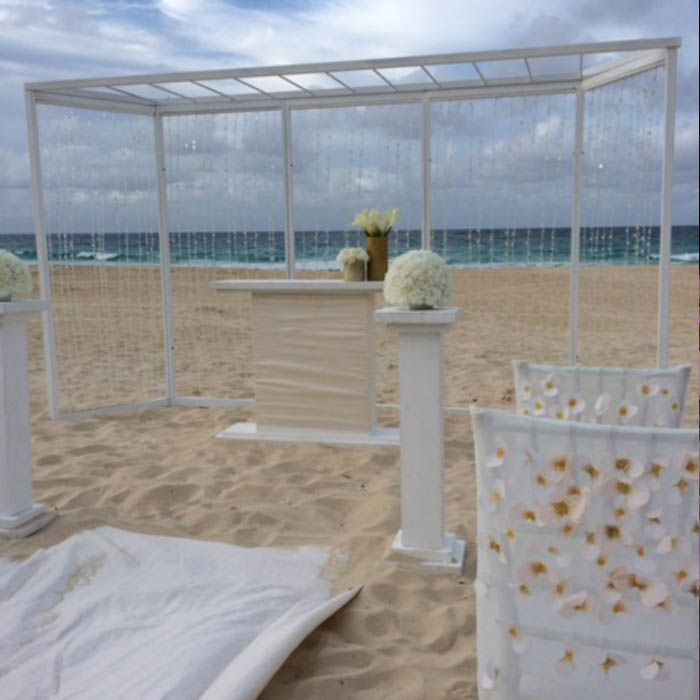 Sandals Grande, St. Lucia, Large Group, Destination Wedding
I wanted to share (with permission) these gorgeous pictures from a destination wedding 2 weekends ago we had the privilege of being a part of and booked by Lia. She chose this over the water wedding chapel in St. Lucia with friends and family there to help celebrate. I love her flower crown and her dress and how happy she is. Picture perfect. Congratulations Kate and Curtis! We are so happy for you!

Secrets Playa Mujeres, Mexico, Destination Wedding
I have never used a travel agent before Lia. I have always been the "I can do everything cheaper by myself on the internet" type person; most of the time, it works great. When my husband and I decided to have a destination wedding, we were not sure about anything - number of guests, length of stay, etc; we also have very demanding jobs, requiring constant travels up until the week before our wedding. So we thought that a travel agent may be a lifesaver; as it turned out, she was. Lia was endorsed as an expert in destination weddings on the American Express Travel website. Although she lived over a 1,000 miles away, I felt comfortable.

As I am not a "girly" person, wedding planning was not my thing; however, party planning and event coordination are. Lia and I treated this "event" like a business and I loved that about her; I needed someone to be truthful and provide honest advice. As it is with my job, I like corresponding via emails because I can have all the information on hand and in writing at all time; Lia always accommodated that, and always very promptly. I'm not talking about several emails over a few months; I'm talking about over the course of over a year. Lia was there to provide support when I had a hard time reach the wedding coordinator; she was there when I freaked out at the resort regarding my brother's return transportation (as it turned out, my brother spoke with the wrong transportation company); she was organized to be able to provide me with spreadsheet of all guest arrival information; she always submitted my requests to Classic Vacation and the resort promptly. James and I cannot thank Lia enough to make everything go smoothly for the biggest event of our lives. All 48 of us had such a great time that we absolutely see another group vacation in the future.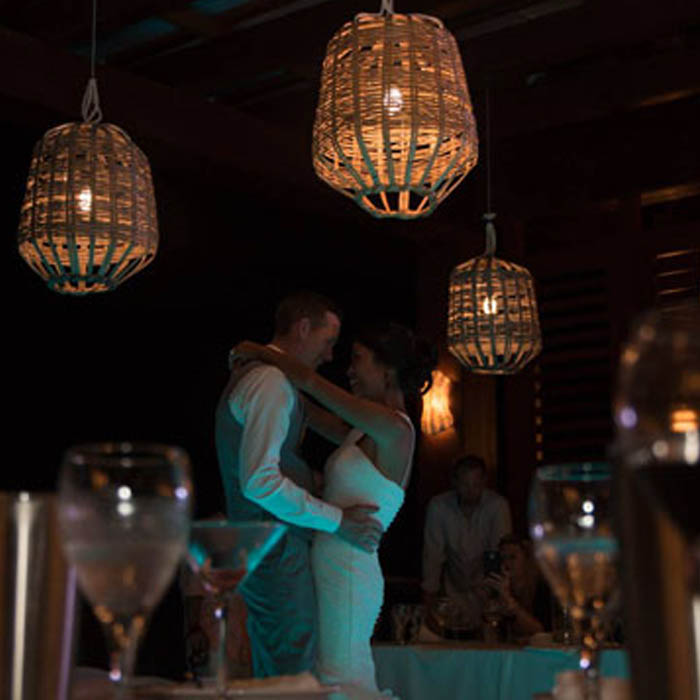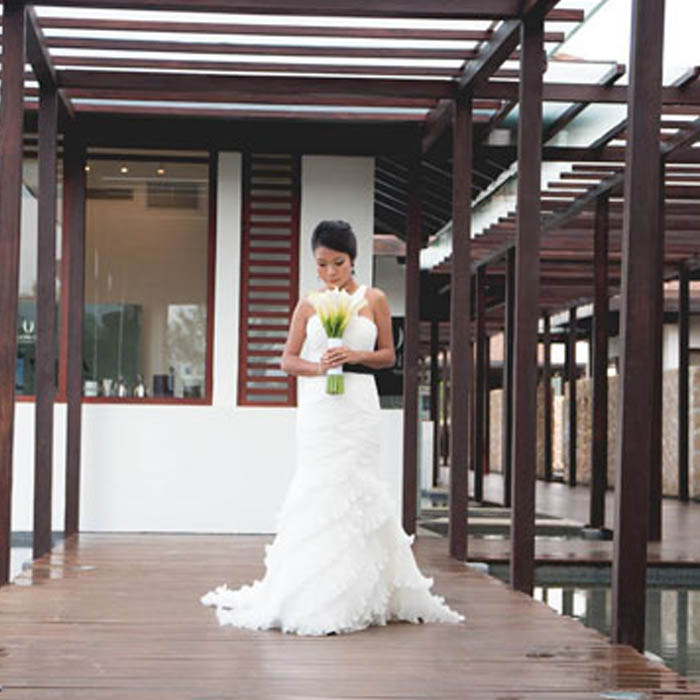 Beaches Resort, Ocho Rios, Jamaica, Destination Wedding
Lia was very helpful for us in planning our destination wedding to Ocho Rios, Jamaica. We had gone through a few other travel planners first who didn't seem nearly as interested in our needs. We really appreciated the way Lia helped us navigate through some of the complexities, including the local laws of Jamaica and the planning with the resort itself. Even once we got to the resort and ran into a few snags, Lia was able to quickly get those resolved very quickly. We would highly recommend her for anyone planning a destination wedding or any other vacation. Thanks, Lia, for making our destination wedding the most special day of our lives.

Beach Palace Cancun, Mexico, Destination Wedding
Lia being referred to me saved me so much wedding planning mental anguish! I had tried with a few other travel agents before I had two different people give me Lia's name, and with each of the previous TAs they had to look into things and call me back (I'm still waiting for those calls). Getting in touch with Lia was a whole new experience, she answered all my initial questions in that first phone call, had so many recommendations, and it was obvious she knew exactly what she was doing. By the time we hung up the first phone call, I had decided on a destination and venue (per Lia's suggestion). She was a God send! A year later, we are still having people talk about what a great trip it was and people are always amazed by what a great turn out we had. We ended up with about 60 people, all booking through Lia and everyone had a flawless experience. One even asked for her name when planning her destination wedding a few months later and was just as pleased! Lia told me a lot through the planning process that I was such a laid-back bride, but it really was because she left me nothing to worry about. She answered any question I had, was always quick to respond to calls and emails, and helped me plan the most perfect wedding ever. I wish I could re-live it all again!!

Cozumel Palace, Mexico, Destination Wedding
My husband Cameron and I got married at the Cozumel Palace in June of 2014 and could not have been more happy with our experience. A destination wedding was definitely the way to go for us and Lia was a great asset in our planning.

Throughout the process we felt completely at ease as she handled some of the most important details of planning for this special time. From her first recommendations of resorts and destinations to her help arranging travel for our closest family and friends we always felt grateful having Lia on our side. We highly recommend Lia Vincent and Palace Resorts for your destination wedding!

Riu Palace, Riviera Maya, Mexico, Destination Wedding
My husband Cameron and I got married at the Cozumel Palace in June of 2014 and could not have been more happy with our experience. A destination wedding was definitely the way to go for us and Lia was a great asset in our planning.

Lia with Lia helped us plan our destination wedding in Riviera Maya, Mexico. We had a total of 11 people and she helped each of them set up their arrangements. From the beginning she was so helpful and always quick to respond. She made the entire process a breeze. She communicated with the wedding coordinator at the Riu Palace and made sure everything was just like we wanted. We did not have any issues at all, thanks to Lia and all of her thorough planning. Each of our guests bragged on her and said how easy it was to work with her. I would recommend Lia for all of your planning needs whether it be just a short vacation or a destination wedding. She knows what she is doing and will make sure all of your questions are answered and that you have the best vacation.
We have been in business since 2013, and booking destination weddings since 2002!
Contact us today to learn more about All Inclusive Weddings!