We help you select the perfect resort for your destination wedding - helping you factor in your group size, budget and travel distance.
To get the most out of a consultation, be prepared to share this information with any agent that you visit:

The dream: Do you have a vision of what your wedding looks like? Describe the setting in as much detail as you can conjure so that the agent can understand your expectations.

Date: When do you want to hold the wedding? And how many days do you expect the entire event to last?

Place: Where you want to go? Do you have a specific destination in mind? Do you know what hotel or facility you want, or do you need recommendations?

Budget: How much money can you afford to spend to travel? Who is paying? Are you picking up any travel expenses other than your own?

Guest list: How many people are traveling, and do you want to help set up their itineraries?

Extras: Are there side trips or excursions you want to include? Is additional transportation, such as airport transfers and rental cars, required?

Honeymoon: Do you plan to celebrate your marriage in the same place and immediately after the wedding, or do you want to visit another destination?
Because travel agents work on commission, you may find one encouraging you to choose a specific hotel or cruise line that rewards her more than others. If that offer isn't what you want, say so - and walk out if you feel pressured.
Destination Wedding Travel Reviews
---

50+ Group Destination Wedding!
- 10/19/2022
Review for travel agent:
Linze Chapman
Lia Vincent and team booked and coordinated booking and travel for 53 guests and my husband and I for our destination wedding November in Montego Bay Jamaica! They were amazing to work with and helped us pick the best all-inclusive resort that was perfect for our group! I don't know what we would do without them!
-Leah Flynn-Smalley
---

Best Wedding and Honeymoon Travel Agent
- 10/19/2022
Review for travel agent:
Linze Chapman
Steph Tindall has been awesome. We are going through a lot with our pending wedding/honeymoon and the Covid pandemic. We've already had our inital flight cancelled and had to postpone the dates for our stay and Sandals. She has taken care of everything and been with us every step of the way. I'm so glad we have her as our agent right now. I'd highly recommend usind her for any of your travel needs.
-Michael Parker
---
10th wedding anniversary trip
- 3/18/2022
Review for travel agent:
Haley Schrock
Where do I start?! Haley was amazing from the beginning to the end of planning my 10th wedding anniversary trip to Las Vegas, NV. I was working a 12-hour shift the day I started planning my trip, but everything worked out fantastic she's great at what she does! Haley sent me several hotel options along with pictures and total prices that included flight and resort fees and taxes. A week before our trip Haley mailed a printout to show the front desk at the hotel our resort fees and taxes so there were no hidden fees. We had the time of our lives and I am so thankful for people like Haley who take so much pride in the work they do! Thank you, girlfriend, you are my forever travel agent even though I live in another state
-Caprice Diggs
---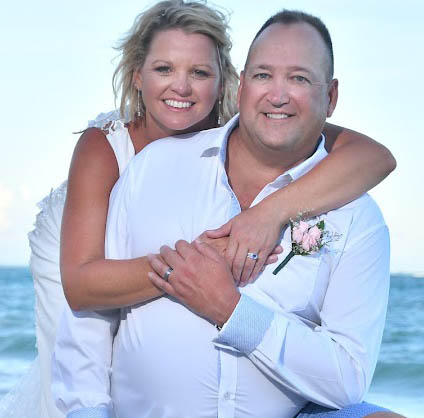 Let me throw out this disclaimer first. You will love her.
- 2/4/2022
Review for travel agent:
Stacie Wolfe
Let me throw out this disclaimer first. You will love her. If you don't have room in your life for a service provider who is attentive, thorough, responsive, kind, and genuine, keep scrolling. Stacie Wolfe was introduced to me through a mutual friend, and I enlisted her services to coordinate travel for more than 50 to the Dominican Republic for our wedding in November 2021. She did this with ease. 50 people, from more than 10 airports (with lots of personalities and accents). All had the most amazing reviews of working with her, especially after receiving a highly detailed folder of EVERYTHING they would need to have a stress free trip. One couple even called at 4am with "travel issues", she answered on the first ring and got them rebooked immediately. Since my wedding 4 months ago, I have used her to book at least 5 additional trips for us. If you want the best, she's it. If you don't, look elsewhere! Thank you Stacie Wolfe for all you do! The world needs more of you!
-Natalie Bannister
---
Destination Wedding 2021
- 7/14/2021
Review for travel agent:
Alena Warfield
It has been a pleasure working with you! You were extremely helpful and knowledgeable. We will definitely be using you for any future vacations! Thanks again for all you have done.
-Catherine
---
Wedding Request Form